Some thoughts about the blues…
Hey Blues Friends,
As you know I played live before, but especially as a One Man Band you learn things the hard way. It´s a mix of getting things started and navigate through people who tend to think you should rather be grateful for playing in their location, than asking for payment. On the other side there are still a lot of folks out there giving everything for handmade, authentic hill country live music,  even if they don´t have a lot to give. I don´t play for free, but I do play for hats as a kind of bluesy appreciation from those who don´t have a lot of options but truly love what you do. Sometimes it´s hard to find out, but if you play live you get a sence of feeling to find out if you are in the right place or not!
After my first year live on stage with 21 live gigs, I still feel so excited about everything that comes with it. My head is full of new ideas, new songs, new instruments, lessons, new locations and of course the plans for my busking holiday in summer 2016 all through the south of Europe. I´m still focussed on playing live in clubs, bars, pubs and festivals even though I´ll defenetely increase my time in the streets. I really love to play as a street musician. It´s so far away from all these hipster trends, where people tend to think when their Facebook account wasn´t tel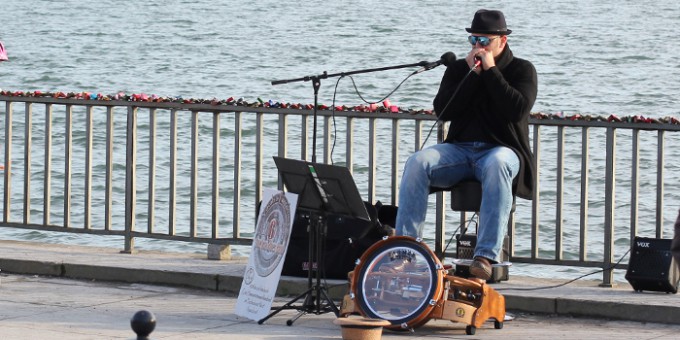 ling them about a gig, there was no gig… I take my place in the social media as well, but I don´t expect anything back from there… I learned, especially the blues audients in bars and pubs won´t be sitting there with their Iphone waiting to add you in their friendship list or like your band page. They´ll buy you a drink or two or put some money in your hat, or they will just tell you that you did a good job on stage and that´s what it´s about.
I want to reach people with my style of music and I try to bring some new attention to this kind of old One Man Blues with a particular modern approach. I add songs people know and love to sing along with. It´s all about creating a good time for my audients where they can leave their normal life, forget about their problems and just hang out with others. In a burn-out society I think your doctor should give you some free tickets for my next blues gig around the corner next Friday, rather than creating a serious disease with a medication to bring you down again… this would help a lot!!
See you down the road…